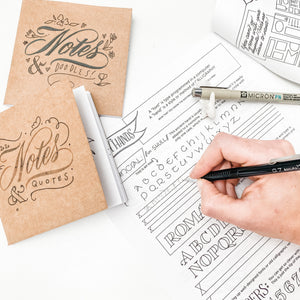 Calligraphy.org
Journaling & Doodling Handout PDF Bundle
Regular price
$15.00
$0.00
This product is a digital download.

Walk through the ins and outs of Journaling with the lens of calligraphy and its influence in penmanship. This 23-page handout breaks down basic penmanship, adds a few stylistic hands to get you started with exploring styles and how to add drawing/doodling elements to your layouts to make striking journaling pages. 
Handout includes: 

Uppercase print
Lowercase print
Upright cursive
Monoline Uncial
Basic drawn romans
Layout tips & ideas
Troubleshooting tricks
Borders, fillers & flags
9 quote layouts and how to create them
Doodling warmups
Simple flower techniques
Realistic flower techniques
12 practice doodle pages with instructions
This by no means is exhaustive of all the techniques out there for effective journaling, but it has a very accessible approach requiring very few materials and starting out with the most basic techniques. This is perfect for absolute beginners or someone with experience just stuck in a rut!