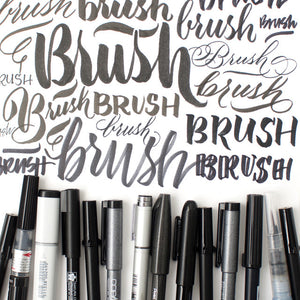 Calligraphy.org
Brush Calligraphy Class
Regular price
$115.00
$0.00
Learn calligraphy with brush markers! It's an easy way to get the hang of letterforms.
The casual nature of brush calligraphy takes the stress of nibs and ink out of the equation while focusing on alternates, style and composition.
This class, much like Melissa's Modern Calligraphy workshop, starts from the beginning.
Learn all about the feel of different markers and where to find them. Learn the letterforms, how to get consistency within your work, how to create your own style, the basics of drafting a layout and explore alternate ways to draw capital letters.
The class covers brush lettering foundations through images, diagrams, text, video and one-on-one feedback. Upload your work (good or bad) to get help from Melissa Esplin herself. Feedback is given on Tuesdays and Fridays each week. In the coursework you'll find a recommended timeline for approaching the work and getting the most out of your time with the feedback.
We've moved to unlimited, lifetime subscriptions. There are no more time limits, and you can take the course as quickly or as slowly as you like!
Join the thousands of students that have learned from Melissa by enrolling today.
Purchase the Kit Separately
You'll likely want to add our Brush Calligraphy Kit to your order.
Take the guesswork out of the experience and get the kit shipped right to your door. 
Supplies
Purchasing supplies on your own? We highly recommend checking out Jet Pens. They've made a page just for this class including the markers we use and love.
It may be a little overwhelming (So! MANY! Markers!), but you'll be just fine with one or two markers of different sizes (fine and medium are great) and gridded paper for practice. Even the gridded paper is optional. We love Rhodia gridded paper for practice work, but any smooth printer paper will be awesome. When printing out the printable guide sheets at a print shop, ask for the "premium paper", it's usually a 28 or 32# text paper that's smooth like butter.
Buy the Bundle to Save $$$
Purchase the Brush Calligraphy Class + Kit Bundle to get the best price on your kit.
15% off a Kit when you buy a Gift Certificate
We offer a 15% discount on a kit anytime you buy a kit and a gift certificate in the same transaction. Make sure they're both in your cart at the same time.
Gift the kit and class to a loved one! Check out our gift options.
We recommend purchasing a $95 gift certificate and a kit together. This way your recipient can get started immediately without having to source supplies.
---
More from this collection